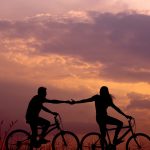 Length: 50 Miles • Several Route Options
Difficulty: Moderate • 3,000-Feet Elevation
START
The itinerary for your ride starts in Rufus, exit 109 off Interstate 84...
Begin riding south on Scott Canyon Road, up the hill. After climbing for 3 miles, turn left (east) on Herin Road. Continue climbing gently through wheat fields. Turn right on Oehman Road, left on Emigrant Springs Lane, and right again on N. Klondike Road. As the terrain levels, be sure to catch great views of Mt. Hood and Mt. Adams.
After riding beside the wind farms for a few miles, arrive at the settlement of Klondike with several houses and large grain elevators. Klondike Road takes a sharp turn to the east at Klondike. After .5 miles continue straight through the windmills, arriving at the end of the pavement at Webfoot with a view of Webfoot School built in 1894. The school is on private property so please view it only from the road.
Retrace the route back to Sandon Road. Turn left riding until dropping down a steep hill to Hay Canyon, connecting with Hwy 206. For those wanting to add a few miles, turn left on 206, climb and descend 6 miles to the John Day River. Retrace the route climbing back to Fairview Road at the top of the hill. Turn left (south), riding 1 mile with the historic Fairview School on your right and turn right on Monkland Road.
FOR A SHORTER ROUTE:
From Hay Canyon turn left on 206 and in .25 miles turn right on Hay Canyon Road. After 3 miles turn right on Monkland which takes you over rolling hills with spectacular views of the snow covered mountains to Highway 97. Turn left to Moro.
Camping, motel, restaurant, mini mart, historic buildings, award winning museum, quilt shop, art gallery, and antique and collectible boutiques for your enjoyment.
OPTIONS FROM MORO:
1) Leave Moro on Lone Rock Road past the fairgrounds. After 10 miles turn right on Rutledge Lane and choose a shorter ride on Rutledge Lane to Grass Valley. For a longer ride, after one mile on Rutledge Lane turn left onto Horseshoe Bend Road for another 10 miles of rolling hills to Kent, a near ghost town with no services. Retrace the route to Rutledge Lane turning left to Grass Valley or ride Highway 97 to Grass Valley, heavier traffic and wide shoulders. Or ... north of Kent turn west on Liberty Road to Finnegan Road to Ball Lane and Hwy 216 and follow the Out and Back from Grass Valley route.
2) Or ... from Moro ride north on Highway 97 to Wasco to enjoy historic buildings and have lunch at the Lean To Cafe' and Goose Pit Saloon. Leave Wasco heading west on Highway 206 over rolling hills to Fulton Canyon. The road drops 800 feet to the Columbia River where a left turn leads to Deschutes River State Park. Or turn right (east) to Biggs and 5 miles further on the frontage road (Old Highway 30) to Rufus.
3) Or ... leave Moro up the hill past the historic courthouse to Van Gilder Road for spectacular vistas and connect with Highway 206 where a left turn leads to Fulton Canyon and the Columbia River. Turn left to Deschutes River State Park or right to Biggs and Rufus and the end of your journey through Sherman County.
OUT & BACK FROM GRASS VALLEY:
Leave Grass Valley on Highway 216 toward Tygh Valley. The route is flat for 10 miles, then drops 1,500 feet in 4 miles to the Deschutes River and historic Indian fishing site at Sherar's Falls. The return requires the 1,500 foot climb to the plateau and Grass Valley where camping is available. Retrace the route on Rutledge & Lonerock roads or ride Highway 97 to Moro.
Very low traffic roads, except Highway 97 that has mostly wide shoulders. All roads are paved and well-signed.
* Not recommended during grain harvest July 15 - August 15.
Save