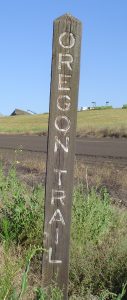 Beginning in the 1840s, Oregon pioneers passed through the northern part of the county on the Oregon Trail, from the John Day River Crossing to the crossing at the mouth of the Deschutes River. Some emigrants destined for the Barlow Road took the Cut-Off to the Barlow Road. The Cut-Off is a short distance west of the John Day River, leading southwesterly through Grass Valley Canyon to present-day Grass Valley, down Hollenbeck Point to Buck Hollow and across the Deschutes River.
Explore the path of the early-1800s covered wagons with the following:
Sign and monument west of Biggs on Highway 30.
Interpretive kiosk at Deschutes River State Park on Highway 30 west of Biggs.
Hiking trail west of Biggs on Highway 30 (two signs carved in simple wooden posts).
Oregon Trail Crossing at McDonald on the John Day River east of Wasco, including an interpretive kiosk and Sherman County Historical Society monument (follow signs east from Wasco).
Oregon Trail Cut-Off to the Barlow Road begins at the John Day River Oregon Trail Crossing east of Wasco. It runs southeasterly to Grass Valley (follow signs) and southwesterly on Highway 216 to Hollenbeck Point, where emigrants entered Buck Hollow and the Deschutes River crossing north of present-day Sherar's Bridge.
Save
Save
Save
Save
Save
Save