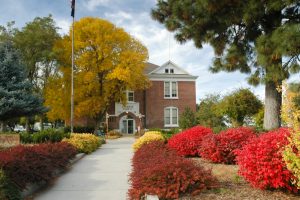 The Sherman County Courthouse in Autumn, captured here by Gary Halvorson of the Oregon State Archives.
Contact
Debbie Hayden
Finance Director
---
Sherman County Courthouse
500 Court Street
Moro, OR 97039

Mailing address:
P.O. Box 382
Moro, OR 97039
---
Finance Department
About the Sherman County Finance Department
The Finance Department is responsible for the preparation and management of the annual county budget, payroll, benefits, and all human resources requirements for Sherman County employees. It also is responsible for financial accounting and reporting for Sherman County. The Finance Director in the Finance Department provides most, if not all, of those services. 
Sherman County Court appoints three citizens to serve on the Budget Committee with the County Court. It also appoints the Budget Officer.
The Finance Department has, over the years, been identified by names that include the Finance Office, Budget & Fiscal Services, and the Financial Services Office.
In years past, the Finance Department also included the tax office. As of late-2017, those two departments have been separated out into two online sections for your convenience: the Finance Department and the Tax Collector.