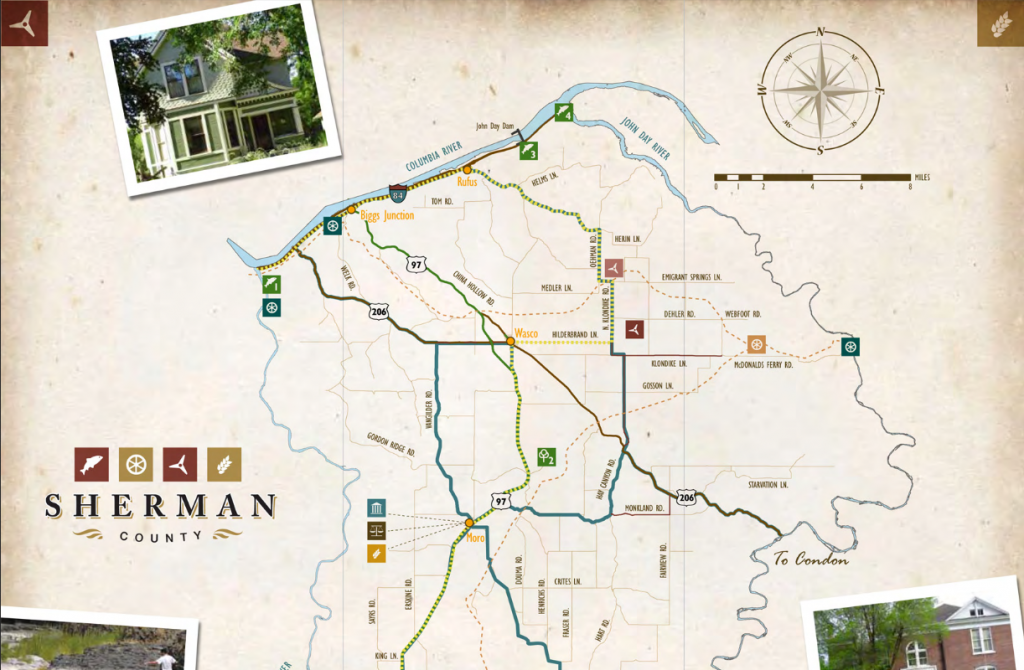 Highway 97
Journey Through Time Scenic Byway, anchored at Maryhill Museum of Art and Maryhill State Park on the north, follows Highway 97 from Biggs south to Shaniko, then easterly to Antelope, John Day and Baker City. This eclectic tour celebrates 50 million years of Oregon history, through an area where fossils lie abundant on the landscape and the Old West happened just yesterday.
Follow the tracks of early settlers. See the ghostly remnants of gold rush boom towns, and witness the earth's geological history unfold where volcanic forces shaped the land.
Listed on the National Register of Historic Places, DeMoss Springs Memorial Park on Highway 97 North of Moro offers a shady summer respite on the historic hamlet of DeMoss Springs where the DeMoss family platted a temperance town with streets named for poets and composers. Visitors enjoy picnic tables, public restrooms, historic structures and interpretive signs.
Highway 206
Locust Grove United Brethren Church on Highway 206 west of Wasco.
[Please note that this is PRIVATE PROPERTY visible from the road.]
Highway 216
Oregon Trail Cut-off to the Barlow Road begins at the John Day River Oregon Trail Crossing east of Wasco and runs southeasterly to Grass Valley (follow signs along nearest county roads) and from Grass Valley southwesterly on Highway 216 to Hollenbeck Point where emigrants entered Buck Hollow and the Deschutes River crossing north of present-day Sherar's Bridge.