About the Sherman County Fair & Fairgrounds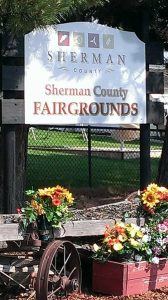 Nearly 110 years after its official October 1909 launch, the annual Sherman County Fair continues to celebrate Sherman County's agricultural bounty.
Visitors come from far and wide to experience a "good old-fashioned" county fair on the Flats of Moro, on land provided by the County within walking distance from downtown Moro. It's here you'll find Sherman County's largest annual gathering, scheduled for when the planting season winds down. You'll find musical entertainment, concessions, parades, fair queen, award-winning pies and cakes, prize-winning farm animals, country dancing, agricultural exhibitors, night rodeos, bull riding, car racing, classic car shows, and demolition derbies.
Try your hand at entering any of the fair exhibit categories, from blue-ribbon grains to blue-ribbon chocolate cake. Your craft could win one of the many cash prizes — plus county-fair-winner bragging rights to last a lifetime!
The Sherman County Fair comes around every year, partially funded by Sherman County. Meanwhile, the Fairgrounds and animal stalls are available for community activities and private rental most any other time of year. Call us today to check availability for your upcoming event.
Directions
Take Highway 97 to the center of Moro. Turn east at the FAIRGROUNDS sign about a mile to the fairgrounds. Enter at the upper gate.
Further Details
Explore the Fairgrounds' website, ShermanCountyFairFun.com, for answers to all your Fair questions. Some questions may be answered already on this site. Simply click the search box below to type in a topic and see related posts.