About Sherman County Community Transit
Sherman County Community Transit, also known as Sherman Transit or Community Transit, provides public bus transportation services throughout Sherman County to The Dalles for shopping and medical appointments, Portland and other cities for medical appointments, and special scheduled events. Sherman County receives Oregon Department of Transportation (ODOT) Special Transportation Funds (STF), Statewide Transportation Improvement Funds (STIF), Federal 5310 Capital Funds, and State/Federal Discretionary Grant Funding to provide priority transportation to seniors and disabled persons. Public transportation to all others is provided as space allows. Veterans' medical rides are also provided by appointment.
There are no required fares. However, donations are always gladly accepted and encouraged for all rides, including medical.
BUS BARN PROJECT - REQUEST FOR QUALIFICATIONS FOR DESIGN & ENGINEERING SERVICES (Jan. 25, 2022)
Bus Schedule
All rides must be reserved a minimum of 24 to 48 hours in advance.
"Tuesday Shopping Bus to The Dalles": This shopping trip is geared to make a shorter day for seniors and senior disabled clients. No appointments, just shopping and a stop for lunch (location a choice of clients aboard). Designated shopping stops to be determined prior to the first stop in The Dalles. See scheduled pick up times and locations below.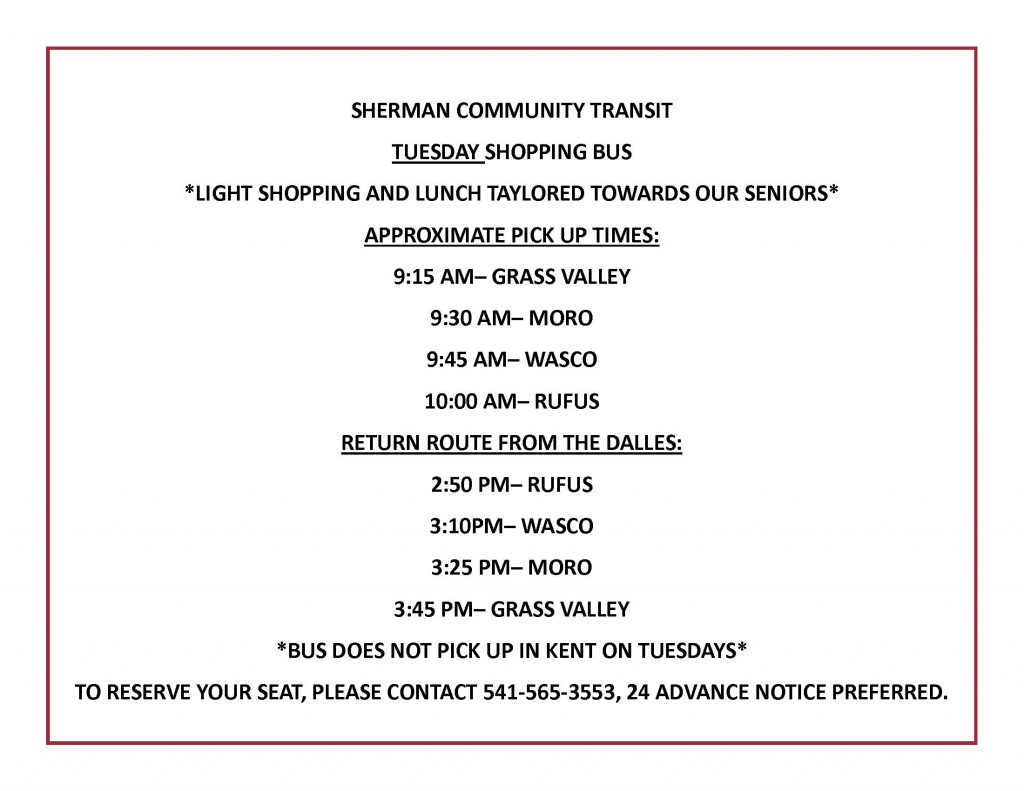 Monday – Friday: Transportation for prearranged medical rides to appointments. MESSAGES MAY BE LEFT ON THE ANSWERING SERVICE ON FRIDAY'S.
Please feel free to contact Sherman Community Transit with scheduling requests or questions.
*Additional shopping days may be added depending on need and driver availability*
Closings
The office is closed and buses do not transport on Holidays.
STF/STIF Advisory Committee Links
ADA and Title VI Information
Accessible formats are available upon request such as Large Font, Braille, Audio Tape, Electronic File (e.g., Word or PDF) or other alternative format required.
For questions contact Kelsi Phillips at 541-565-3553 or email kelsi@co.sherman.or.us